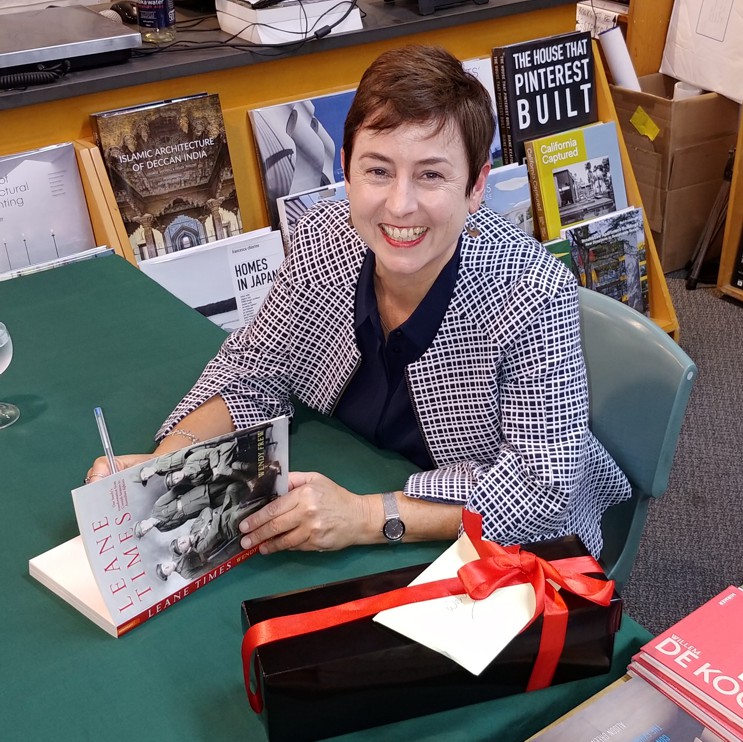 Workshop & Literary Event - Wednesday 14 April
Workshop - Drawing Inspiration from Family Photos, Letters and Memorabilia with Wendy Frew
Time:  10:15 am to 12:00 pm
Place:  Dixson Room, State Library of NSW
Cost:  Members $35, non-members $45
Wendy Frew is an award-winning journalist who has worked in Australia and overseas, specialising in business reporting, the environment and sustainability, recently launching her radio program and podcast, The Coast, on Radio Northern Beaches. In 2018, Wendy published her first book, Leane Times: One family's transformation from Cornish farmers to Australian fighters, about her Cornish ancestry.
Workshop participants, please bring one of the following items – you will be asked to write briefly about its significance and may be asked to read what you wrote:
  ♦  An object (not a photo or letter) that you might hand down to the next generation in your family – it should say something about yourself or tell a story that illuminates part of your life, e.g. a trinket from an overseas trip, a medal/trophy, an old school tie
  ♦  An object (not a photo or letter) that has been handed down to you from someone in your family (dead or alive) that tells a story about that person or illuminates part of their life, eg. a war medal/memorabilia, household item, children's clothing
  ♦  A letter from someone in your family who has passed away or moved interstate/overseas that could be included in a family history because of its contents
  ♦  A family photo or other old photo that could be used in a family history/biography
  ♦  A photo of yourself that you would be happy to see in a family history written by you or someone else
Member Talk
Christine Sykes will give us an insight into her latest book Gough and me: My journey from Cabramatta to China and Beyond.
Christine won the recent member fiction award for her debut novel, The Changing Room. Gough and me explores the impact on her life when Gough Whitlam, one of the most visionary and polarising political leaders of Australia, moves into her street in Cabramatta in 1957. At eight-years of age, Christine who was living in a fibro house built by her truck-driver father, was fascinated by the Whitlam's modernist brick house with a flat roof. The reforms fought for and implemented by Whitlam, transformed her education, expectations and career.
Keynote Speaker - Susanne Gervay
Time:  12:45 pm to 2:30 pm
Place:  Dixson Room, State Library of NSW
Cost:  Members $20, non-members $35
Susanne joined SWW in 1990 and is an active and enthusiastic life member.  Her parents were refugees who escaped from war, communism and terrorism in Hungary, arriving in Sydney without being able to speak English. Susanne's father was a farmer and her mother a Professor of Engineering in Hungary, working hard in Sydney factories to rebuild their lives.
She became a teacher and educational consultant, then started writing for her children so they would laugh and feel safe, extending her writing to benefit all kids, parents and everyone.
Susanne grew up with the secrets of the past, like many second generations of survivors. Heroes of the Secret Underground was written to resolve hidden ghosts, recognise the courage of kids and bring knowledge from the past to create warriors of injustice for the future.
♦  A secret symbol hidden in a stolen locket
♦  A desperate race through bombed streets of Budapest
♦  Truths that must be unveiled
Autobiography, history, philosophy, fantasy – this may change you forever.
Please note: If you cannot travel to the city but would like to watch the Keynote via Zoom, this feature will be available from 1:00 pm to 2:15 pm.  Zoom cost: Members $10, non-members $15
Book and pay:
Discount for full program (workshop and keynote) when booked together:  Members $50, non-members $75
(a)  Credit card: https://www.trybooking.com/BPJDJ  or  https://www.trybooking.com/BPJDP for Zoom 
(b)  Direct debit:
The Society of Women Writers NSW Inc
BSB: 062 018
Account:  00950433
Code:  VM (for Keynote Speaker) or VMW (for Workshop) 
Email Amanda Mark - amanda.mark@mintegrity.com.au - with your name, receipt number and date of event