Workshop – Christine Sykes & Gwen Wilson: Memoir Writing 
Time:  10:15 am to 12:00 pm
Place:  Dixson Room, State Library of NSW
Cost:  Members $40, non-members $55
Don't miss out – it might be just the catalyst you need!
Have you always wanted to write or complete a memoir?
Are you passionate about family stories? 
Do you want to know the key differences between writing memoir and other forms of writing? 
Memoirs have been one of the most popular forms of writing, whether for family and friends, or for the wider public. In this interactive workshop, Christine Sykes and Gwen Wilson will guide participants through the practicalities of researching and writing memoirs and the main elements of making a memoir into a riveting story. They will impart lessons from their writing and publishing. The workshop will cover structure and distribution options using published memoirs as a guide.
Christine Sykes has three published books. Being raised in Cabramatta provided the basis for her memoir Gough and Me: My Journey from Cabramatta to China and Beyond. Her latest, The Tap Cats of the Sunshine Coast, was inspired by her aunt's experience taking up tap dancing in retirement. It is a heart-warming story of secrets and friendship. The Changing Room, based on her experiences at the non-profit Dress for Success, won the Society of Women Writers fiction award.
Christine was a community worker and senior public servant. She is Vice-president of the Society of Women Writers and Sutherland FAW.
Gwen Wilson's memoir I Belong to No One is also informed by growing up in Sydney's working-class western suburbs in the 60s and 70s. A raw account of disadvantage and poverty within the Forced Adoption Era, it is ultimately a tale of triumph over adversity. 
Gwen enjoyed a career in the male-dominated field of international trade, shipping and logistics. She is now Membership Secretary of the Society of Women Writers.
WEBSITE/social media contacts: https://christinesykes.com/
Special Time for Chatting with your Friends
Time:  12:00 pm to 1:00 pm
Place:  Dixson Room, State Library of NSW
Cost:  Free!
Take an opportunity to sit and talk with your friends or even meet someone new in the Dixson Room – totally casual, in Sydney's inspiring literary hub.
Make use of the workshop table and chairs, bring a book to share with others or just chat about your recent readings.
Please note: Food and drinks (other than water) cannot be consumed in the State Library but you can grab some lunch and coffee/tea at one of the local cafes.
Literary Event
Time:  1:00 pm to 2:00 pm
Place:  Dixson Room, State Library of NSW
Cost:  Members $25, non-members $40


Member Speaker – Jo Oliver:  New Biography of Adelaide Perry: artist and teacher
Using archives, newspaper articles and interviews, Jo Oliver has spent three years researching Adelaide Perry, artist and printmaker. 
Guest Speaker – Lisa Blair:  Get comfortable with the uncomfortable
After discovering sailing when she was 25 years old, a short 7 years later in 2017, Lisa made history. Lisa became the first woman to sail solo around Antarctica with one stop after surviving a dramatic dismasting at sea.
Lisa then went on to lead the first all-female team to compete in the 2017 Rolex Sydney to Hobart Yacht Race in 16 years. She set two more world records in December of 2018, when she sailed solo, non-stop and unassisted around Australia, spending 58 days at sea, all while sleeping for no more than 20 minutes at a time. 2019, Racing her yacht Climate Action Now in the Melbourne to Hobart Yacht Race with co-skipper Jackie Parry becoming the first double-handed female team to race.
Lisa set her latest records on May 25th, 2022 becoming the fastest person to sail solo, non-stop, and unassisted around Antarctica. While on record, Lisa was able to complete valuable ocean health research and collected over 180 micro plastic samples in her 92 days at sea, taking 10 days off the record.
Lisa has now sailed over 110,000 nm and holds an RYA Yacht Master offshore. Lisa is a proud Australian adventurer and author of Facing Fear.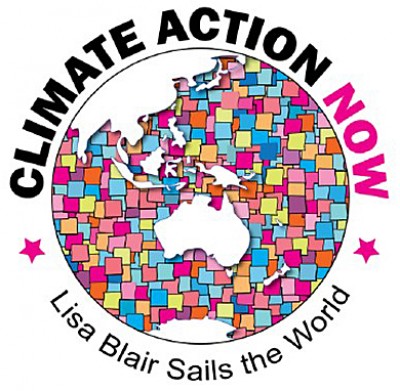 Records and Awards
◊  2017 World Records while sailing solo around Antarctica with one stop:
       First woman with one stop below 45 South
       Spirit of Adventurer award by Australian Geographic
       Ocean Cruising Clubs Seamanship award
◊  2018 World Records while sailing solo, non-stop and unassisted around Australia:
       Fastest Monohulled
       First woman
       First eco powered boat
◊  2022 Southern Cross University Alumni of the Year award:
◊  World records while sailing solo, non-stop and unassisted around Antarctica:
       Fastest person
       First Woman below 45 South, non-stop
       New established record crossing all tracks below 45 South
       Australian Geographic's Adventurer of the Year Award
       Australian Sailing Offshore Sailor of the Year Award
Book and pay:
Workshop:  Members $40, non-members $55
Literary event:  Members $25, non-members $40
Discount for full program (Workshop and Literary Event) when booked together:  
Members $60, non-members $85
By Credit card:  https://www.trybooking.com/CFFTB
or by Direct debit:
      The Society of Women Writers NSW Inc
      BSB: 062 018
      Account:  00950433
      Code:  VM
      Email Amanda and include
      your name, receipt number and date of event
Zoom ($10) will be available for this function – please click here to book:  https://www.trybooking.com/CFFTF