The Alice Award, National Writing Competition & Members Book Awards
These awards were presented at our Gala Luncheon, held at The Women's Club, Sydney, on Wednesday 9 November 2022. 
Huge congratulations to all the winners, highly commended, commended, shortlisted and everyone who entered their works.
If anyone present would like a copy of any of the photos, please email Rita.
The Alice Award
Biennially, and jointly, the Societies of Women Writers throughout Australia recognise an Australian woman who has made a distinguished, long-term contribution to Australian literature with The Alice Award, a perpetual statuette and certificate of recognition. The statuette, designed by Alan Ingham, is based on Henry Lawson's The Drover's Wife. The award was named after Alice Booth, a retired teacher, writer and philanthropist, who gave the Society of Women Writers NSW a 50th birthday gift, a bank book with $100 in it. The inaugural award was made to Eleanor Dark in 1979. Since that year, the list of awardees reads like a who's who of Australian women writers.
New South Wales was this year's host and we were excited that, of the five phenomenal women nominated for the 2022 Alice Award, our nominee, Jackie French won this coveted award. Jackie was not able to attend but recorded her acceptance speech.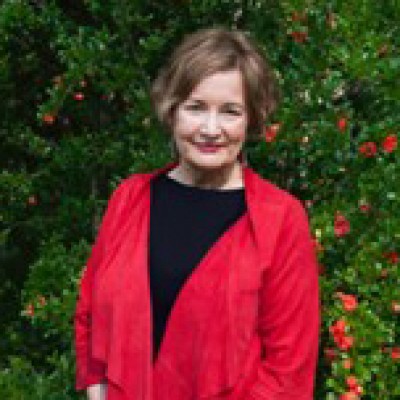 Jackie French – author, historian, ecologist and champion of wombats and the natural environment. Jackie has written more than 200 books for all ages and across genres, and is recognised in Australia and internationally.
A passionate advocate for childhood literacy, Jackie works tirelessly to defend the right of every child to learn, regardless of difficulties they may face or their background.
Videos made by nominees for The Alice and Jackie's acceptance speech video are available on this website under Opportunities/Alice Award – click here.
National Writing Competition
We are delighted to announce the winners of the National Writing Competition 2022. Congratulations to the authors and thank you to our judges.
Short Story Fiction – judged by Jenny Strachan
Winner – Alexandra Dunn ♦ Violet
Highly commended – Paulette Gittins ♦ Forget it Jake
Commended – Julie Howard ♦ Recipes for Sisters and Wives
Short Story Non-fiction – judged by Paula McLean
Winner - Carmel Bendon ♦ Birds of a Feather
Highly commended - Judy Rowley ♦ The Only Way
Commended - Gwen Wilson ♦ Loving in the Shadow of Tito
Poetry – judged by Eileen Chong
SPONSORED BY GINNINDERRA PRESS
Winner - Josephine Shevchenko ♦ Undying the Sea
Highly commended - Colleen Keating ♦ petal by petal
Commended - Mocco Wallert ♦ A Stranger in my house
Members Book Awards
We are delighted to announce the winners of the Members Book Awards 2022. Congratulations to the authors and thank you to our judges.
Fiction – judged by Margaret Wick
Winner - Kelly Van Nelson ♦ The Pinstripe Prisoner
Highly commended - Susan Steggall ♦ The Heritage You Leave Behind
Highly commended - Maureene Fries ♦ Stones, Bones and Hollyhocks
Commended - Helen Lyne ♦ Love, Disappointment and Other Joys of Life
Non-fiction – judged by Sybil Jack
Winner - Christine Sykes ♦ Gough and Me
Highly commended – Valerie Clifford ♦ Fijian Shadows
Highly commended – Jan Conway ♦ Skimming the Surface – Expats in Kiribati
Commended - Kate Forsyth & Belinda Murrell ♦ Searching For Charlotte
Poetry – judged by Carmel Bendon
Winner - Pip Griffin ♦ Virginia and Katherine, the Secret Diaries
Highly commended - Anne Casey ♦ the light we cannot see
Highly commended - Colleen Keating ♦ Olive Muriel Pink. Her radical and idealistic life. A poetic journey
Commended - Denise O'Hagan ♦ The Beating Heart
Children & Young Adult – judged by Gail Erskine
SPONSORED BY CHRISTMAS PRESS
Winner - Libby Hathorn & Lisa Hathorn Jarman ♦ No! Never! A cautionary tale
Highly commended - Libby Hathorn ♦ The Best Cat the Est Cat
Highly commended - Pamela Rushby ♦ The Mummy Smugglers of Crumblin' Castle