The Society sponsors the Abbie Clancy Award, named after Abigail Mary Clancy (1898-1984), one of the founders of the Society of Women Writers and a prominent early 20th-century journalist.
This bursary of $1,000 is awarded annually and is open to female honours and post-graduate students attending universities in New South Wales. Entrants for the Award must submit an abstract (300-500 words) of an unpublished research paper on the published or unpublished work(s) of fiction or non-fiction of an Australian woman writer or journalist.
2021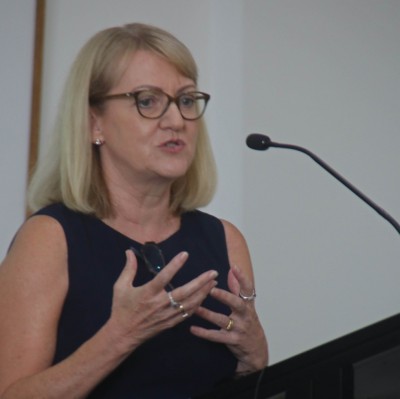 Judge's Report
Once again it has been a pleasure to judge entries for the Abbie Clancy Award, open to female Honours or postgraduate students enrolled at any university in NSW. Three entries were submitted this year, which I thought was quite good, given the disruptions of 2020 with universities closed for much of the year.
All three entries came from doctoral students, two from the University of Sydney and one from the University of Wollongong, and all dealt with well-known authors writing during the twentieth century: Eleanor Dark, Ruth Park and Dorothea Mackellar. Each student presented a detailed and interesting abstract, so I had a difficult time deciding who should receive this year's award.
I am delighted to announce that the winner of the 2021 Abbie Clancy Award is Deborah FitzGerald who is enrolled for a Doctor of Arts in English at the University of Sydney. She is writing a new biography of Dorothea Mackellar, a poet now best known of course for her poem 'My Country'. Deborah's abstract is entitled 'Dorothea Mackellar: Whose Country?' and begins by asking: 'To what extent does the push for greater recognition of Indigenous peoples impact the relationship between Australians and Dorothea Mackellar's patriotic poem "My Country"?' As she notes, there have been many recent criticisms of the poem as racist and elitist but she argues for a deeper understanding of it in relation to Mackellar's experiences. Can it, she asks, 'be a poem for all Australians?'
I congratulate Deborah on this Award and I look forward to hearing more about her research on Dorothea Mackellar today and in the future.
Emeritus Professor Elizabeth Webby AM FAHA
Abbie Clancy Award Winners
2021 Deborah FitzGerald - Dorothea Mackellar:  Whose Country?
2020 Sarah Pope - To Be and Be Seen: Alice Jane Muskett (1869–1936) and the 'Role of the One Who Looks On'.
2018 Cheryl O'Byrne - Betwixt and Between: Rereading Poppy as Autofiction
2017 Katrina Foster
2016 Meg Brayshaw
2015 Isobel Barrett Meyering
2013 Claire Timbs and Claire Nashar – awarded jointly
2011 No award given.