August 2023
As I write, the sun is shining, after several days of incessant rain. It is a true Devon summer. Blustery, drizzly, or misty. Then when the sun struggles through, the countryside is transformed. Wildflowers are blooming, blackberries are ripening in the hedges and the hay is being harvested in the nearby meadows.
I have been here in Barnstaple now for three weeks and am so grateful for this wonderful opportunity to live and work in England for three months, provided by our Patron, Professor Di Yerbury and the Society of Women Writers. 
Barnstaple is an ancient port town on the River Taw, a few kilometres from the wild North West Devon coast. The old town retains evidence of its wealthy past, with impressive historic buildings, a ruined castle motte and its 800-year-old stone Long Bridge, one of the longest medieval bridges in Britain. Di's apartment is located close to the medieval town centre with picturesque views over quaint cottages and the church tower of Holy Trinity, to the fields and meadows on the hillside. 
The first couple of weeks have been spent settling in, finding the best grocery stores, organising technology, and exploring the local area, which is brimming with history and literary connections. Famous local writers include Charles Kingsley (Water Babies and Westward Ho!), Henry Williamson (Tarka the Otter), and Rudyard Kipling (The Jungle Book). In 1865, RD Blackmore was inspired to write Lorna Doone while on a holiday in Exmoor, while more recently, Michael Morpurgo wrote his famous novel War Horse based on stories told in the nearby Duke of York pub.
The Romantic poets Samuel Taylor Coleridge, William Wordsworth and Percy Bysshe Shelley, loved North Devon, especially wandering the local byways. In 1797, Coleridge was inspired to write The Rime of the Ancient Mariner and Kubla Khan, while walking with William and Dorothy Wordsworth near the fishing port of Lynmouth.  
In 1812, Shelley lived in a thatched cottage in Lynmouth for a few months with his 16-year-old bride Harriet, until he fled to Wales to escape prosecution for distributing revolutionary tracts in Barnstaple. Two years later he abandoned poor pregnant Harriet to elope with 16-year-old Mary Godwin, author of Frankenstein and daughter of Mary Wollstonecraft, who wrote A Vindication of the Rights of Woman in 1792. It is very inspiring to walk in the footsteps of some of my literary heroes. 
Last week, I was invited to join the monthly meeting of one of the local writing groups at Barnstaple Library. I was asked to give a short presentation about my books and the SWW Di Yerbury writing residency, and to contribute feedback on some of their works in progress. It was lovely to meet so many passionate and talented writers. They have also invited me to visit the next meeting of Writing For Children in a couple of weeks.
My current project is an historical novel, set during World War 2. Barnstaple was an important military base during the war, with thousands of American soldiers training for the D-Day invasion of Normandy on the nearby beaches of Saunton Sands, Braunton Burrows and Woolacombe.  
This trip has given me the opportunity for invaluable research, including visiting several military museums, such as the nearby Cobbaton Collection, the Imperial War Museum in London, the Secret War Tunnels in Dover, RAF Base Manston near Folkestone, the Nazi Rally Grounds in Nurnberg and Le Musee de la Reddition in Reims.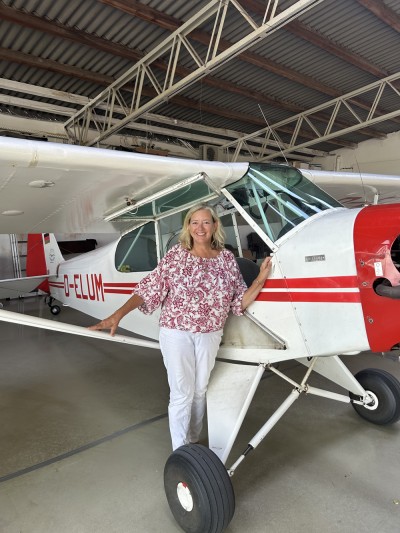 Cobbaton Collection is a private military museum, just a few kilometres away. Here, I was able to sit in an Anderson bomb shelter and experience the terrifying noise of an air raid, climb in an ARP shelter, and touch several anti-aircraft guns. I saw the crashed remnants of a Nazi glider, a war zone ambulance, a fire truck used during the Blitz, a long-range desert rover, several tanks and thousands of wartime relics. The opportunity to see and touch these objects brings this period of history to life and is an invaluable opportunity for research which is simply not possible in Australia.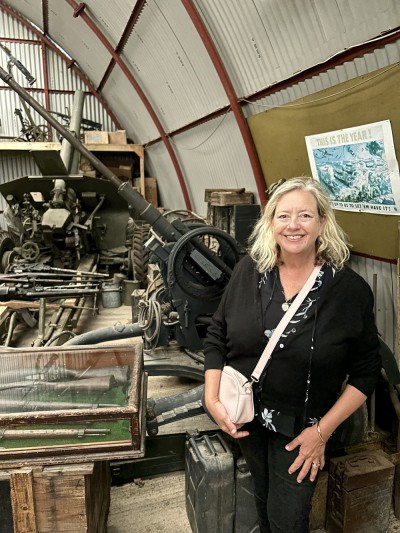 I also took the opportunity to extend my trip so that I could do more extensive historical research in Germany (Nurnberg and Coburg), France (Paris and Reims) and England (London, Folkestone and Dover). A week in London enabled me to research in the National Archives at Kew, visit key settings for my novel and walk in my characters' footsteps. 
It has been a truly amazing trip so far, and I am really looking forward to the next couple of months of writing and working in this lovely, Devon town. 
Best wishes
Belinda Murrell