October 2023
The last month of my writing residency in North Devon has literally flown! Autumn is definitely here, with shorter days, misty mornings and chilly nights. It has been a wonderful experience to spend the summer in this beautiful part of England and I will be so sad to leave.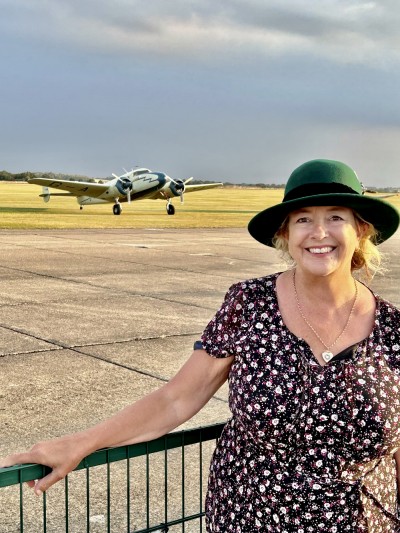 As well as writing, I have been focused on making the most of the research opportunities here, especially those simply not available in Australia. For example, an absolute highlight was the Battle of Britain Air Show at Duxford RAF in Cambridgeshire. This event commemorates the crisis in September 1940 when the RAF defeated the German Luftwaffe in its largest attack on Britain. The Air Show was completely sold out, and I was glad I had booked my ticket months before from Australia. 
So many people were dressed in 1940s clothes and uniforms (including me!), bringing World War 2 history to life with pilot scrambles, Home Guard patrols, secret aerial reconnaissance, vintage vehicles and live boogie woogie entertainment. There were aerial dogfights between Spitfires and Messerschmitts complete with explosions and flak, Spitfire and Hurricane fighter formations, and flyovers by Lancaster bombers. It was an extraordinary experience. 
I took advantage of the long weekend near Cambridge to visit several other museums including the Bletchley Park codebreaking centre, the Imperial War Museum at RAF Hendon, and a private tour of the WW2 top secret headquarters of RAF Fighter Command at Bentley Priory. I met with German historic aviation expert Tony Gemeinder who generously shared his knowledge with me. 
Another highlight was visiting the Jane Austen festival in Bath. It was surreal to see the streets of this beautiful town filled with hundreds of people dressed in gorgeous Regency costumes. The festival runs for several days, with the highlight being the Grand Promenade from Holbourne Museum in Sydney Gardens (which was Jane's favourite place to walk in the mornings), down Great Pulteney Avenue through Queen's Square and finishing at the Assembly Rooms. I loved walking in Jane's footsteps, seeing where she lived at 4 Sydney Place, and visiting some of her favourite haunts. The British certainly enjoy celebrating their literature and history.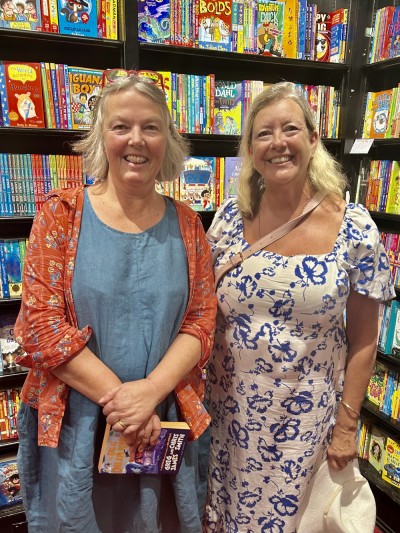 In Bath, I met acclaimed English children's author Fleur Hitchcock (author of Murder in Midwinter, the Clifftopper series and Mouseheart) and it was fascinating to discuss emerging trends in children's literature and the UK publishing industry. 
The Appledore Book Festival is held every September in this historic fishing port, about half an hour away from Barnstaple, at the confluence of the Rivers Taw and Torridge. The nine day festival includes a fascinating lineup of author talks and cultural experiences, the opportunity to meet local authors, as well as a comprehensive children's programme. I particularly enjoyed hearing World War 2 historian, author and broadcaster James Holland, who shared the stories behind his new book The Savage Storm, about the battle for Italy in 1943.  
This summer was unusually cool and damp, which made it good weather for hiking several sections of the South West Coastal Walk with its steep climbs, muddy paths and spectacular views over the Atlantic. Several people recommended that I should read The Salt Path by Raynor Winn, a beautifully written and uplifting memoir about a couple walking over 630 miles though North Devon and Cornwall, after losing everything.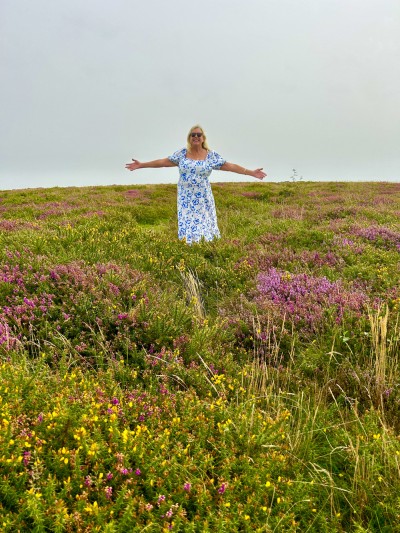 About ten miles north of Barnstaple is stunning Exmoor, with its black-faced sheep, wild Exmoor ponies, and vast swathes of blooming purple heather and yellow gorse. Tiny villages are nestled in the shelter of narrow valleys, beside cascading brooks. 
On one exploration, we turned down Hookaway Hill, onto a hedged lane, barely wider than our car, crossing Robber's Bridge. Flocks of pheasants were nesting in the hedgerows and woodland. The drive was stunning, but rather hair-raising when we came headfirst upon a large tractor returning home and had to reverse some distance to let it pass. 
Imagine my delight, when we crossed a shallow ford by an ancient arched bridge over Badgworthy Water, and unexpectedly arrived in Doone Valley, to discover the very farm where the classic novel Lorna Doone was set. Lorna Doone was written by RD Blackmore in 1869, inspired by murderous tales of the real-life Doone family, a clan of Scottish outlaws. 
Blackmore's grandfather was rector at St Mary's Church in the nearby hamlet of Oare, where Lorna Doone was shot on her wedding day, by the villain Carver Doone. The National Trust is renovating the old Doone Farm buildings, including the derelict stables and outbuildings. Inside the old farmhouse, you can see the huge kitchen fireplace and the original, scarred kitchen table. 
Another Victorian classic that I loved from my childhood was The Water Babies, by Charles Kingsley. He was also a local writer, growing up in the quaint, fishing village of Clovelly on the Hartland Coast, part of an historic family estate. The village is vehicle-free, set on a steep cobbled lane, leading down to the 14th century quay, with breathtaking views over the Celtic Sea. One of the cottages is now the Kingsley Museum, celebrating his life and books. The village is listed as one of the most beautiful in England and attracts huge crowds in summer. The best tip is to go early on a sunny, autumn Friday to explore without the masses. You can also visit the walled Clovelly Court Gardens above.
So as my Di Yerbury residency comes to its end, I'd like to say a huge thank you to previous winners for their helpful tips and suggestions, especially Helen Thurloe, Anne Beaumnont and Cindy Broadbent, and of course to Di Yerbury and the Society of Women Writers. It has been a dream come true. 
Best wishes,
Belinda Murrell