June 2023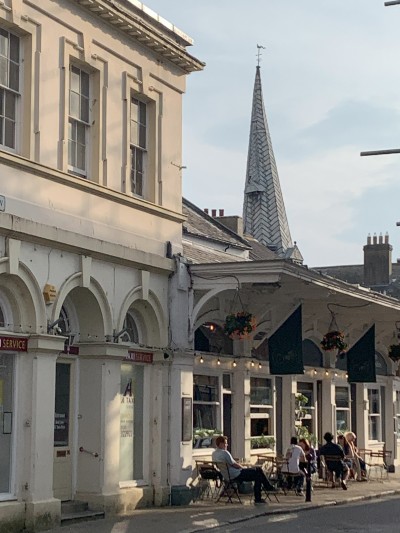 Hello everyone from the lovely county of Devon in the UK. Happy to be staying in Professor Di Yerbury's apartment in Alexandra Court, Barnstaple, after being awarded the writer's residency here. Having recovered from a bout of flu, I've been exploring the centre of Barnstaple, still laid out on its original Mediaeval lines. Fortunately, High Street is now a pedestrian thoroughfare. Not far from the town centre is the river Taw with a footpath leading along the tidal estuary in one direction and to a pleasant park in the other. This is within easy walking distance of where I'm staying. 
The weather has been sunny and warm, and there's talk of a heatwave. Dire warnings on TV about how to cope in hot weather (25C predicted for this area and 29C for London). Many places, including the buses are not airconditioned. However today (10 June) it's rainy and cool.
There's a good bus service to the coast and, as I haven't got a car, I've taken the bus to the seaside town of Ilfracombe. The town has a 20-metre high harbourside statue entitled Verity, and opinions about it are mixed.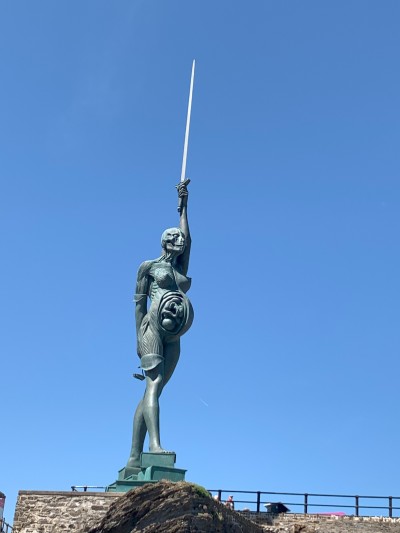 As well as talking to the Alexandra Court residents, travelling on public transport has given me a chance to chat to local people, whose main concern seems to be the rising cost of living. My novel is set in the present day so I'm writing copious notes. I also find the local TV news broadcasts a great source of information about what's going on in the area.
Yesterday I went to Exeter, it's a one-hour trip on what they call the Tarka train, a name based on the 1920s children's novel Tarka the Otter. The countryside is at its best at the moment, extensive sun-drenched fields and scattered farms, dotted with sheep. I can't help noticing plants like Patterson's curse and wild blackberries which were introduced into Australia with devastating effect. Here they grow innocently in small clumps near the railway line.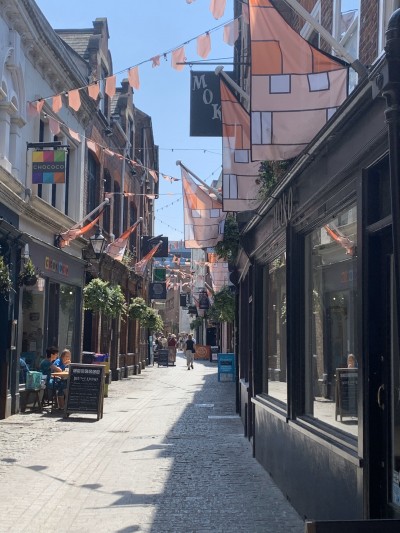 Exeter has a real buzz. It's an attractive university city, with a cathedral dating from the eleventh century. The main street is very busy but not far from the centre, there's a wide river front with pubs and restaurants. I spent the day walking around, choosing places for my characters to meet and have lunch. Gandy Street, just off the High Street, was apparently JK Rowling's inspiration for Diagon Alley in her Harry Potter books (see photo). She was a student at Exeter University, hopefully I'm in good company.
Stay well everyone and warm!
Cindy Broadbent