Sally Jane Smith
Paperback & E-book 2023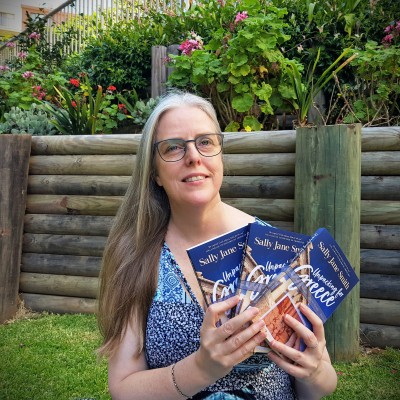 When Sally sets out for Europe with her mother's 1978 travel diary in her pocket, she is searching for the wanderlust she lost in a devastating overseas road accident.
As she ventures into the heart of the Mediterranean – wandering volatile landscapes, exploring historical sites, pairing books with places and savouring the tastes of Greece – she finds it is possible for a clumsy, out-of-shape woman on a budget to experience a life-changing journey.
In a story told with warmth, humour and a fascination with Greece's natural and cultural heritage, Sally connects with her past, overcomes her fears and falls in love with life again, one olive at a time.
Book One in the Packing for Greece series travels to Athens and Meteora on the mainland, Monemvasia, Sparta and Methana on the Peloponnese Peninsula; and the islands of Santorini and Rhodes.
An inspired Greek odyssey, balm for the soul. 
    Tina Hartas, co-founder of TripFiction
A truly literary memoir – a story of tragedy, resilience and the gradual rediscovery of adventure. Sally takes you with her in every sense. 
    Ned Kelly award-winning author, Sulari Gentill
Available from online retailers – including Amazon (www.amazon.com.au/Unpacking-Greece-Travel-Fortresses-Ferries/dp/0645625701) and many others – and your neighbourhood bookshop.
More information and sales links at www.SallyJaneSmith.com
Published by Journeys in Pages, 1st June 2023